There are a number of considerations and decisions to be made before embarking on an office fitout. In this article we'll go through some of the top things to consider when planning an Office Fitout.
Office Fitout Aims?
What are you trying to achieve with a new office fitout?
An organized working environment?

Providing office space which is conducive to creativity, motivation and productivity?

To reinforce and suitably project your branding?

To cater to a particular workforce, i.e. GenY?
Make a list of all the things you are wanting to achieve from your office space. Your office fitout design team will want to know what you hope to achieve from your office fitout.
Office Space
One of the most important decision is what size your office needs to be and whether your existing office space is adequate. Ask yourself the following questions:
Does the space cater to the number of employees?

Is there room for additional employees should your business expand?

Does the space cater for the functions of your business?

Suitable workspaces for employees

Areas for staff interaction

Suitable reception area to reflect image and professionalism

Areas for interaction with clients

Staff amenities

Does the space reflect your business values and practices?
Office Layout
The layout of your office can determine and complement the business atmosphere you wish to achieve. For example, an open plan office reflects and encourages collaboration, visibility and communication, while enclosed offices provide for any privacy which may be required.
Consider the functions of your business and the atmosphere you wish to create. Below are just a few of the many options you might consider:
Glass Office partitions to maximize light
Communal workspaces for collaboration
Private workspaces for client consultations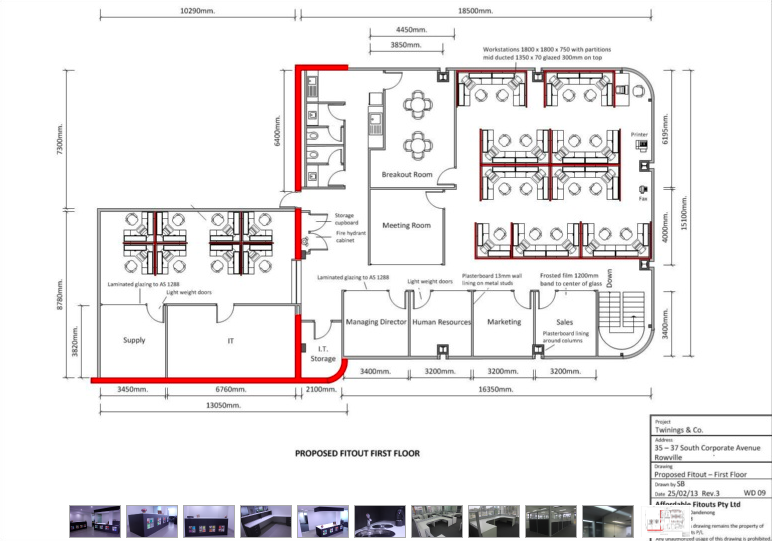 Office Technology
Be sure to consider your requirements when it comes to access control, security systems, telephone points, data points, data networks, AV requirements and any other technology which needs to be implemented in your office fitout.
Office Furniture and Fixtures
The type and style of office furniture and/or office fixtures will depend on the office layout and the office space.  Options include:
Desks and/or Workstations
Reception Area – desk/workstation, client waiting area, etc
Meeting / Conference Tables
Moveable Walls – for flexibility and/or later expansion
Office partitions / Privacy Screens
Use of existing furniture
Flooring – tiles, carpet, wood, concrete
Lighting – for vibrancy or atmosphere
A final word…
An office fitout is about getting the right balance between design, functionality and your budget. Good office fitout design can promote your company image and have a positive impact on staff motivation, performance and productivity.